Who are We?
Our Vision & Mission
Who we serve – does this sound like you?
Learn to advocate for care that reflects your lived experience of your health!
Our Leadership & Founding Patients
Project Apollo Toolkit – coming soon!
Resources & Collaborators
Project Apollo Patient Pioneers™
Articles of Interest
I needed a way to see the light at the end of the tunnel Patricia (Christina) Kantzavelos is a Project…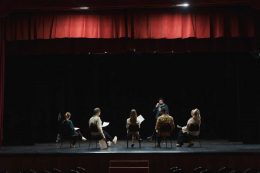 A new play. Raising awareness for Lyme Disease with a blend of documentary theatre and imaginative departures from reality. Written by…
(by Rachelle Babler & Mark Huls) Rachell Babler: This song was written the day after my sister passed away from…
Activities associated with PHE and Project Apollo do not constitute medical or clinical care and are not intended to replace any medical care or treatment you are currently undergoing, including any treatment(s) that have been recommended by medical professionals. Rather, we recommend that you include your current medical providers in your Project Apollo activities, by informing them about your processes, inviting them to engage with your self-study, and continuing to seek their professional support for your health concerns.